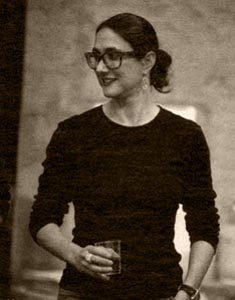 photo by Craig Schwartz
Director/Playwright/Choreographer/Designer/Filmmaker

A multi-disciplinary artist, Nancy Keystone is founder and Artistic Director of Critical Mass Performance Group, an ensemble dedicated to the collaborative creation of new works and reinterpretations of classic plays. A visual artist as well as director, she conceives her productions as a whole, often designing sets for her productions. An interest in the poetics of space has led to productions in non-traditional environments--houses, a jazz bar, parks, building exteriors, industrial spaces. She works regularly as a freelance director, designer and writer at regional theatres throughout the country.
Her most recent project with Critical Mass Performance Group is Apollo, for which she won a Garland Award for "Best Play" for Parts 1&2, and a Drammy Award for scenic design. The production is part of the U.S. exhibition at the 2011 Prague Quadrennial, and it is featured prominently in the recently published book, The Creative Spirit, by Stephanie Arnold. Previously with Critical Mass, Ms. Keystone wrote, choreographed, directed, set designed and produced The Akhmatova Project (one of the Ten Best Productions, 2000, Los Angeles Times; and four L.A. Weekly nominations--Best Production, Direction, Ensemble, and Choreography, winner of Choreography award). A movement-based performance piece, it is inspired by the life and writing of Russian poet, Anna Akhmatova. Other Critical Mass Productions: Suzan-Lori Parks' 365 Days/365 Plays (week 47), Aphra Behn's The Rover, Marlowe's Dr. Faustus, Brecht's Baal, Shakespeare's Measure for Measure (one of 10 Best productions, 1991, Los Angeles Reader), all performed at non-traditional sites. She has directed and designed productions at Portland Center Stage (Artistic Associate 2003-2005), Mark Taper Forum, Actor's Express, The Theatre @ Boston Court, Georgia Shakespeare Festival, San Francisco Shakespeare Festival, and was Resident Director for The Continuum in Los Angeles.  Other directing forays include opera (San Luis Obispo Mozart Festival, Long Beach Opera, Musica Angelica, Cal State Long Beach), festival performance events (Santa Barbara Summer Solstice Celebration), and film. In visual art she works primarily in mixed media, creating paintings and collages which have resulted in numerous commissions and public exhibitions. In 2006 she was co-design consultant on the new Gerding Theatre for Portland Center Stage in the historic Portland Armory, conceptualizing and developing features for the four lobby spaces. She was named one of the "Faces to Watch in 2005" by the L.A. Times and is the 2003 recipient of TCG's prestigious Alan Schneider Director Award, in addition to other grants and fellowships from: MacDowell Colony, National Endowment for the Arts, APAP/Doris Duke Ensembles Collaborations grant, TCG/Pew Charitable Trusts' National Theatre Artist Residency Grant (with PCS), Center for Cultural Innovation's Investing in Artists Grants, Durfee Foundation, Drama League of New York, California Community Foundation, Flintridge Foundation, among others. She is a member of the visiting faculty at UCLA, is a frequent guest lecturer, and an instructor in arts-in-education programs nationwide.
Ms. Keystone earned an MFA in Directing from Carnegie Mellon in1988, and a BA in Theatre Arts from UCLA in1985. Also in 1985 she spent a semester in Europe studying drawing and art history.